A large blast in the Lebanese capital, Beirut, has killed at least 50 people and injured more than 2,700 others, the health minister says.
It is not yet clear what caused the explosion. Videos show smoke billowing from a fire before the blast, which is followed by a mushroom cloud.
Hospitals are said to be overwhelmed and many buildings have been destroyed.
Lebanon's internal security chief said the blast happened in an area housing highly explosive materials.
A BBC journalist at the scene reported dead bodies and severe damage, enough to put the port of Beirut out of action.
The explosion comes at a sensitive time for Lebanon, with an economic crisis reigniting old divisions. Tensions are also high ahead of Friday's verdict in a trial over the killing of ex-Prime Minister Rafik Hariri in 2005.
Officials are pointing to an accident rather than a deliberate act as a possible cause.
The interior minister said first reports suggested what he called explosive material stored at the port had blown up.
Prime Minister Hassan Diab called it a catastrophe and said those responsible must be held to account.
He spoke of a "dangerous warehouse" which had been there since 2014, but said he would not pre-empt the investigation.
Local media showed people trapped beneath rubble. A witness described the first explosion as deafening, and video footage showed wrecked cars and blast-damaged buildings.
"All the buildings around here have collapsed. I'm walking through glass and debris everywhere, in the dark," one witness near the port told AFP news agency.
The blast was heard 240km (150 miles) away on the island of Cyprus in the eastern Mediterranean.
President Michel Aoun called for an emergency meeting of the Supreme Defence Council, the presidency said on Twitter. Wednesday has been declared a day of mourning.
UK Prime Minister Boris Johnson tweeted: "The pictures and videos from Beirut tonight are shocking. All of my thoughts and prayers are with those caught up in this terrible incident.
"The UK is ready to provide support in any way we can, including to those British nationals affected."

'Glass going down from all over the building'
Hadi Nasrallah, eyewitness speaking to the BBC
I saw the fire, but I didn't yet know there was going to be an explosion. We went inside. Suddenly I lost my hearing because apparently I was too close. I lost my hearing for a few seconds, I knew something was wrong.
And then suddenly the glass just shattered all over the car, the cars around us, the shops, the stores, the buildings. Just glass going down from all over the building.
Literally all over Beirut, people were calling each other from different areas kilometres away and they were experiencing the same thing: broken glass, buildings shaking, a loud explosion.
Actually we were shocked because usually when it happens, just one area will experience those happenings after an explosion, but this time it was all of Beirut, even areas outside of Beirut.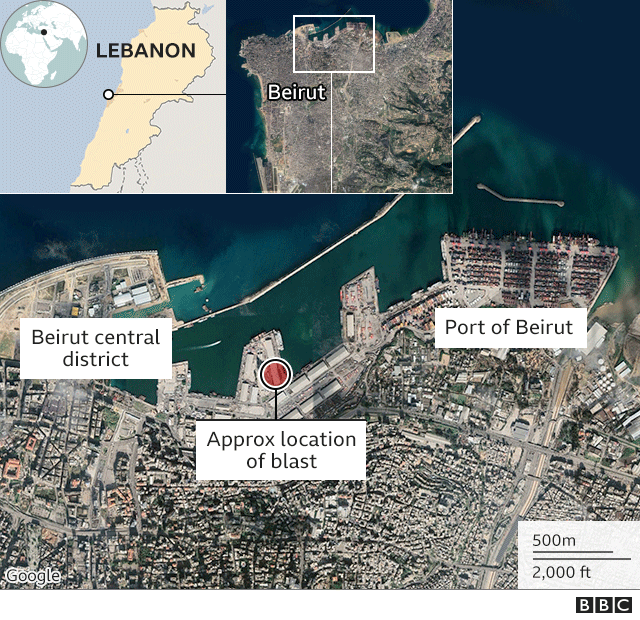 Shock and anxiety
By Sebastian Usher, BBC Arab affairs analyst
The videos and images, not just of the massive cloud of smoke erupting in Beirut but the damage and devastation it is caused kilometres away, have triggered a new wave of shock and anxiety in Lebanon, which is already teetering on the brink of a catastrophic economic collapse.
Just hours before the blast, anti-government protesters had been scuffling with the security forces outside the ministry of energy, demanding yet again accountability from the country's leaders.
There have been grave warnings of hunger in the streets or a reigniting of sectarian conflict if the economy worsens.
And the blast will remind many of the bomb that killed Rafik Hariri. The Lebanese will be hoping that this latest blast will remain a human tragedy – an accident – and not a premeditated act.

What's the situation in Lebanon?
Lebanon is experiencing political turmoil, with street demonstrations against the government's handling of the worst economic crisis since the 1975-1990 civil war.
Many blame the ruling elite who have dominated politics for years and amassed their own wealth while failing to carry out the sweeping reforms necessary to solve the country's problems. People have to deal with daily power cuts, a lack of safe drinking water and limited public healthcare.
There has also been tension on the border with Israel, which said last week that it had thwarted an attempt by Hezbollah to infiltrate Israeli territory. But a senior Israeli official has told the BBC that "Israel has no connection" to the Beirut blast.
The blast happened close to the scene of the huge car bombing which killed ex-PM Hariri. Tuesday's blast also came days before the long-awaited verdict in the trial at a special court in the Netherlands of four men accused of orchestrating the attack.\
Hezbollah urges unity in face of 'national tragedy'
Lebanon's Hezbollah movement has called for national unity following today's explosion, which it described as a "great national tragedy".
"This tragic catastrophe and the unprecendented damage it has created… require solidarity and unity from all Lebanese people, political forces and national actors," a statement from Hezbollah said.
The group offered its condolences to the wounded and families of those who died and also praised the work of emergency and medical workers in responding to the disaster.
Doctor: Emergency room 'a bit chaotic'
Lebanon's health minister has said in televised remarks that more than 50 people have now been confirmed dead while more over 2,700 others are injured.
The head of the Rafik Hariri University Hospital in Beirut, Dr Firass Abiad, told the BBC most of the injuries were due to breaking glass.
"The emergency room, it's a bit chaotic. We started receiving almost immediately lots of injured patients, most of them were from glass injuries that occurred due to the blast.
"Later we started receiving some of the injured people from closer to where the blast occurred. Currently we've received more than 200 patients and five of them unfortunately have passed away," he said.
Two hospitals have been evacuated because of the severe damage that they have sustained – one of which is a hospital that was treating coronavirus patients, he added.
Emergency teams streamed in from across Lebanon to help, and injured had to be taken to hospitals outside the capital.
Some of those injured lay on the ground at the port, Associated Press staff at the scene said. A civil defense official said there were still bodies inside the port, many under debris.
Beirut's governor, Marwan Abboud, broke into tears as he toured the site, saying, "Beirut is a devastated city."
Initially, video taken by residents showed a fire raging at the port, sending up a giant column of smoke, illuminated by flashes of what appear to be fireworks. Local TV stations reported that a fireworks warehouse was involved.
The fire then appeared to catch at a nearby building, triggering a more massive explosion, sending up a mushroom cloud and a shock wave.
Charbel Haj, who works at the port, said it started as small explosions like firecrackers. Then, he said, he was thrown off his feet by the huge blast. His clothes were torn.
Miles from the port, building facades were shredded, balconies were knocked down and windows shattered. Streets were covered with glass and bricks and lined with wrecked cars. Motorcyclists picked their way through traffic, carrying the injured.
One woman covered in blood from the waist up walked down a trashed street while talking furiously on her phone. On another street, a woman with a bloodied face looked distraught, staggering through traffic with two friends at her side.
"This country is cursed," a young man passing by muttered.
The blast came at a time when Lebanon's economy is facing collapse from the financial crisis and the coronavirus restrictions. Many have lost jobs, while the worth of their savings has evaporated as the currency has plunged in value against the dollar. The result has thrown many into poverty.
It also occurred amid rising tensions between Israel and the militant Hezbollah group along Lebanon's southern border.
The explosion was reminiscent of massive blasts during Lebanon's civil war and took place only three days before a U.N.-backed tribunal was set to give its verdict in the killing of former Prime Minister Rafik Hariri in a truck bombing more than 15 years ago. That explosion, with a ton of explosives, was felt miles away, just like Tuesday's explosion.
Several of Beirut's hospitals were damaged in the blast. Roum Hospital put out a call for people to bring it spare generators to keep its electricity going as it evacuated patients because of heavy damage.
Outside the St. George University Hospital in Beirut's Achrafieh neighborhood, people with various injuries arrived in ambulances, in cars and on foot. The explosion had caused major damage inside the building and knocked out the electricity at the hospital. Dozens of injured were being treated on the spot on the street outside, on stretchers and wheelchairs.
"This is a catastrophe we have on our hands," said one doctor, speaking on condition of anonymity because he was not authorized to make press statements.
Courtesy: Boston Globe